Carrot, parsnip and coriander soup with celeriac and blue cheese soda bread
When will the rain stop? A question on the lips of many at the moment. We live in close proximity to a brook which floods and it is a nerve-wracking time. We have (so far, grabbing onto the wooden table for dear life) been fortunate to remain dry unlike the many across the UK who are struggling to deal with the carnage left by the hideous conditions this year. As I type, the rain is once again falling and the wind is whipping through the village. Wheelie bins are being blown down the street, trees are bending awkwardly in the gusts with their roots clinging on for dear life. Water is bubbling out of the drains and I have one eye on the brook, keeping check on the ever-rising level of water.
This winter has been a miserable one so far. Bring me the snow and ice any time over this incessant rain and wind. Compared to many, we are very fortunate, but I have to admit that the conditions are beginning to get me down. Life with an active toddler is no fun in this weather. Yes, the buggy has a rain-cover and yes, we both have waterproofs but, to be honest, being out and about in the pouring rain whilst pushing a buggy is not a great deal of fun. So we are largely spending time at home and, whilst cosy days at home can be fun, I am starting to get a little cabin fever. Not helped by the fact that my little boy is under the weather and exceptionally clingy!
Brushing with beaten egg gives a lovely shiny crust
This sort of weather demands soup. There is simply nothing else that will do for lunch on a dreary day such as this. Almost as good as a hug, a bowl of really tasty, hot soup warms you up from within in the same way as a morning bowl of porridge. My vegetable drawer is currently heavy to celeriac. I have three. Now, I love celeriac but nobody needs three celeriac. I toyed with making a celeriac soup but then I remembered a recipe card that had come with my last veg box for a
celeriac and blue cheese soda bread
. Bread-making and I do not normally get on well. It is for this reason that I purchased a bread maker which does the job brilliantly. I am not sure what it is, but I am never pleased with the results and have rather consigned it to the 'things I don't do well' list. Soda bread, however, is my friend. No yeast required! Quick and simple bread that is fairly foolproof. My kind of bread-making. This recipe could hardly be easier; you simply grate some celeriac and mix with flour and Stilton, add an egg and some milk, shape the dough and bake in the oven. No proving, no kneading.
Serve the bread warm whilst the Stilton is still oozy!
I had to add a little extra flour as my dough was very sloppy (hence my rather flat 'loaf') but overall, I was impressed with this flavoursome bread. It was a great accompaniment to the warming bowl of soup I made to go alongside. I had a huge bunch of coriander and decided to tweak my usual carrot and coriander soup recipe by adding some parsnip, which worked well. The recipe for the soda bread can be found
here
and here is the rough recipe for the soup...
Carrot, parsnip and coriander soup
Serves 4
Ingredients:
1 large onion, chopped
1 plump clove garlic, crushed
1 tsp ground coriander
4 large carrots, peeled and roughly chopped
1 large parsnip, peeled and roughly chopped
1 litre vegetable or chicken stock
large handful fresh coriander
1. Heat a little oil in a large saucepan and sweat the onions until starting to soften and look translucent (5 mins). Add the garlic and coriander and cook for a further minute.
2. Add the chunks of carrot and parsnip, place the lid on the pan and cook on a low heat for five minutes or so. Add the stock and simmer for 20 minutes, or until the vegetables are soft.
3. Roughly chop the coriander and add to the soup. Remove from heat and blend to a smooth soup with a hand blender or liquidiser. Garnish with a swirl of cream and a little extra coriander, if liked.
I am entering this lovely soup into two blogging challenges. Firstly,
No Croutons Required
, which this month is hosted by Jacquline at Tinned Tomatoes. Entrants must make a vegetarian soup or salad in order to enter.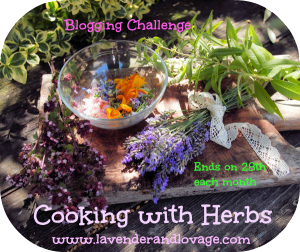 Secondly, I am entering this into Karen's '
Cooking with Herbs
' monthly challenge over at Lavender and Lovage. This month she has asked for an Oriental theme if possible to celebrate Chinese New Year. I can't really claim that this is very oriental but I did use heaps of coriander which does lend a very Asian flavour to the soup.