It seems that I bought a few too many mini bars of chocolate for last night's trick-or-treaters.
Sadly, master Little Bit Greedy is still too young to indulge in chocolate.
What a shame.
Mr Little Bit Greedy is trying to lose weight. It seems unfair to put temptation in his path.
I'm basically doing him a service by eating my way through them. Aren't I?
I thought so. Good.
In between doling out the treats to the various witches, vampires, werewolves and zombies that came to the door last night, I cooked up a delicious autumnal feast in my cauldron casserole dish. We love game in all guises and hadn't had any pheasant yet this autumn so a hearty pot roast seemed just the thing for a special supper for two.
I think pot-roasting is a great way to cook game birds which dry out so easily when opting for more traditional roasting. Be sure to brown the birds well prior to adding the liquid, otherwise they tend to look a touch on the anaemic side. We had a smallish hen and found 45 minutes to be about right in terms of time in the oven but a larger bird would obviously require longer. Just double the quantities for four; it works just as well.
I served our bird with roast potatoes and steamed green pointed cabbage but it would be good too with a creamy celeriac mash to mop up all the lovely juices from the pan. You could equally add more vegetables to the pot (cabbage, Chantenay carrots, celery...) and forgo extra veggies on the side.
Pot Roast Pheasant with Sherry and Sage
Serves 2
Ingredients
Olive oil
1 oven-ready pheasant
2 rashers smoked bacon, streaky bacon or pancetta
1 red onion
1 leek
2 carrots or a handful of baby carrots
4 cloves garlic, peeled but left whole
4 large leaves sage
sprig fresh thyme
100 ml sweet sherry (Madeira or Marsala would also work well)
100ml white wine
250ml chicken stock
bay leaf
1. Preheat the oven to 180C. Prepare the vegetables: peel and chop onion into wedges, chop leek and carrots into large chunks. Finely chop the sage leaves.
2. Heat the oil in a large casserole and brown the pheasant on all sides. Set aside.
3. Chop the bacon into strips and fry (adding a touch more oil if necessary) for a couple of minutes before adding the vegetables, garlic cloves, sage and thyme. Cook gently over a medium heat for around five minutes until the vegetables are starting to soften at the edges.
4. Add the Sherry and white wine and turn up the heat. Bubble away for a couple of minutes before adding the pheasant to the pan. Pour over the stock and add the bay leaf.
5. Bring to a simmer, place a tight-fitting lid on the casserole and transfer to the oven for 45 minutes or until the pheasant is cooked through and coming away easily from the bone.
6. Remove pheasant from liquid and carve. Serve with the delicious broth and vegetables from the pan.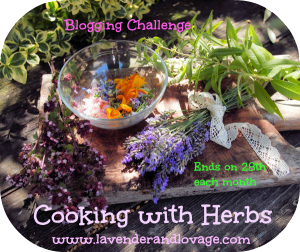 I am entering this post into the '
Cooking with Herbs
' blog challenge over at
Lavender and Lovage
. I am gradually finding my way around food blogs old and new and am delighted to have discovered this lovely blog.
This recipe uses two reasonably hardy herbs: sage and thyme. It is the sage that dominates here though and it is a flavour that I adore. I do find that it can be a little overpowering so tend to go reasonably easy when adding to dishes. It is a herb that I really associate with Autumn - it goes so well with the season's squashes and game.