There are many items I like to have in my storecupboards, fridge and freezer 'just in case'. It is always satisfying to know that in the event of a sudden blizzard/earthquake/other apocalyptic event, I will be able to rustle up a quick pasta puttanesca. Must-have items for me include tinned tomatoes, pasta, an onion, a lemon, frozen peas, cheese and eggs. Wine and chocolate too, if I'm honest. I am also rarely to be found without readymade pastry in the freezer. Say what you like about homemade being better but, for me, ready-made and even (dare I say it?) ready rolled pastry is up there as one of man's greatest inventions. Actually, it was probably invented by a busy woman but that is beside the point.
Firstly, I don't accept that homemade is always better when it comes to pastry. I have politely eaten some absolutely dreadful pastry in my time. Some of it made by myself, some of it by others. Secondly, whilst I concur that there are occasions where homemade pastry is desirable (my mother's fabulous orange-scented mince pies, for example, where to replace the gorgeous citrussy pastry would defeat the entire object), most of the time a good quality ready-made version will do very nicely indeed. Particularly when lacking time. Or butter. Or flour. On more than one occasion, I have been complimented on my excellent pastry - I smile serenely as I push the packed of
Jus-Rol
further into the bin. Actually, I don't do this. I am far too honest and more likely to apologise in advance for my use of shortcuts before the tart or pie has even made it to the table.
A delicious mix of peas, broad beans, crème fraîche, dill, basil and lemon zest: this would make a great dip too!
Anyway, with a pack of puff in the freezer, I am happy in the knowledge that I am moments away from pie or tart glory. One of my current favourite recipes for when we have guests is a delicious salmon en croûte recipe from Tana Ramsay's '
I love to bake
' book. The salmon is covered in a purée of frozen peas and broad beans with mint and then baked in a puff pastry case. Mint is the only herb that I really cannot bear and so I usually substitute for dill which I feel works really well. It is a great entertaining recipe as it can be made up in advance and there is no last minute fiddling.
After the excess of Christmas, Mr Greedy and I are (predictably) back on a bit of a health drive. Being greedy has its downsides and we both struggle with our weight. We have both had great success with Weight Watchers and are back to counting those points! It isn't for everyone but it works for us - allowing us to eat whatever we want within our daily allowance along with scope for the odd blowout or weekend treat. We try to stick to it 80% of the time. Thinking creatively comes with the territory and there are lots of things we do to ensure we can still enjoy our favourite foods by making small, 'healthier' tweaks. Enter stage left: filo pastry. We use it as a scrunched up topping for pies, a base for quiches and tarts and for wrapping parcels of fish! Don't get me wrong - I would choose puff over filo every single time. But it is a decent alternative if you are watching the weight.
Here, I smothered individual salmon fillets in a purée of peas, broad beans slipped from their skins, lemon zest dill and basil. I then wrapped them up in filo pastry, brushed with a scant bit of melted butter and baked in the oven. Not very seasonal but absolutely delicious!
Herbs, glorious herbs: dill and basil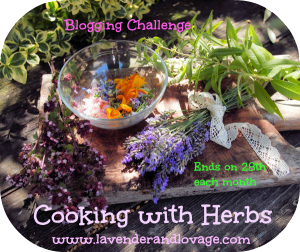 I am entering this recipe to this month's
cooking with herbs
blogging challenge over at
Lavender and Lovage
. This month, Karen has asked that we try to include citrus alongside our herbs. This recipe contains two fabulous herbs: basil and dill. Dill has a faint aniseed flavour which marries brilliantly with many kinds of fish. I also think it goes rather well with broad beans, hence I use it in this recipe. I am not really keen on aniseed but somehow I find dill rather delicious as long as it doesn't dominate a dish. Basil is a real favourite of mine - I love to crush the leaves lightly in my hand and breathe in that lovely, summery scent. A little lemon zest is a must with this fishy dish - I could never be without a lemon in the fruit bowl! What could you never be without?
On a final note, I should add that we particularly enjoyed our wine match with this dish.
The Society's Exhibition Albar
iño, 2012
was just the ticket - peachy with a lovely limey freshness that matched well with the herby purée as well as the fish
Filo Salmon Parcels
Serves 2
Ingredients:
50g frozen peas
50g frozen broad beans
1 tbsp low fat creme fraîche
1 tbsp (small handful) chopped dill
1 tbsp chopped basil
zest of half a lemon
2 salmon fillets, skinned
2 rectangular sheets filo pastry
20g melted butter
1. Pre-heat oven to 180C. Make the purée: boil peas and broad beans for a couple of minutes, drain and cool under cold running water. Slip the beans from their skins. Ideally using a small food processor, blitz together the peas, beans, herbs, crème fraîche and lemon zest until you have a smoothish purée. Season generously with salt and pepper.
2. Lay out the sheets of filo and place one salmon fillet at one end, leaving an inch of pastry as a border. Smother salmon with half the purée and then tuck in the edge and sides of the pastry before rolling down the rectangle to form a parcel. Repeat with second fillet. Transfer both to a non-stick baking sheet and brush with melted butter.
3. Bake for 20 minutes, or until the pastry is golden. Serve with boiled potatoes and lots of greens.
For those following weight watchers, I calculate this recipe as 11 Propoints.